The Declaration of Startup Friendly Kansai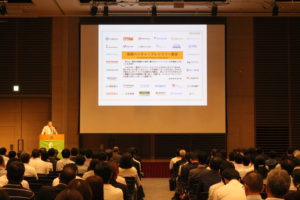 [Our Overview] (Dear startups)
 Given that the Kansai region has historically produced many entrepreneurs, we believe that the region has the potential ability to produce and raise entrepreneurs in modern society. In recent years especially, business enterprises, local governments, universities, etc. have taken a growing interest in nurturing startup companies, thereby intensifying support activities for startup companies. However, these efforts have only led to the region being dotted with startup companies that are not integrated into a single combined system of startup companies and start-up corporations. Among others, increased efforts for open innovation would be required from large companies and startup companies.
  To enable the Kansai region to achieve further growth, it is vital to break the status quo to revitalize Kansai's startup ecosystem. This has prompted us to announce the Kansai Startup Backing Initiative, aimed at deepening cooperation between existing companies and new startups. Asked about big hurdles faced in opening up a business, many startup companies cited their being turned away at the door due to lack of past trade performance when they approached existing companies, as well as business-building and development of marketing networks, technical support, management of funds, etc. To solve these problems, we have called upon business enterprises and other organizations willing to provide consultation on these matters. Their category of business covers a broad range, including financing, trading houses, manufacturing, IT firms, and infrastructure-building. You are encouraged to actively use the opportunities offered under the bolstered system.
[Method for utilization and explanatory notes]                                            
①If you wish to receive advice from an supporting company, you are requested to contact us with the content described. It should be noted that depending on the content, your requirements may not be met.
②If you have scheduled an interview, you may be requested to be accompanied by an interpreter(Japanese).
③Please note that the list of supporting companies is as of June 2, 2021. Any addition will be put on the website of the Association. 
Topics
The Declaration of Startup Friendly Kansai